Le Chicago Blues, par un band de Chicago
au Petit Chicago, pour lancer les célébration
du 10e anniversaire de Virée Blues Boréale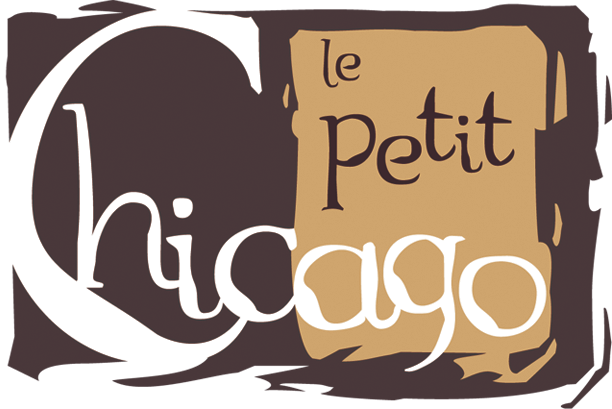 10 years already! Viree Blues Boreale's team has been sharing it's passion for the Blues with the region's Blues fans for 20 editions during those 10 years. That adds up to over 200 shows by more than 100 artists in front of 24,000 patrons! Now renown as a producer of unique performances that bring together on it's stage some of the best Blues performers, Viree Blues Boreale's team is now inviting you, for the festivities of it's 10th anniversary, to nothing less than a complete 20th edition of double-headers! And to launch this iron-clad programme at Le Petit Chicago, we invited none other than a flagship band of present-time Chicago Blues. With a discography of 12 albums, a Grand Dame of the Blues often compared to the the great Eta James, Inetta Visor as lead singer, and with the man who started it all, the chromatic harmonica virtuoso, Pierre Lacocque, from Chicago, Mississippi Heat. And there's even a special guest, a major figure of the Blues world, the leader of The Boppin' Blues Band and of The Goodmen Band, the guitarist of the late Miss Linda "Chocolate Thunder" Rodney, Mister Mike Goudreau will also take part in the performance.
Highly reputed on Chicago's Blues scene, the leader-composer of Mississipi Heat, Pierre Lacocque is a harp virtuoso with an unusual life path: Born in Israël, he spent his childhood in Europe, then moved to Chicago in his teens and followed up with Montreal to study; then he came back to Chicago to pursue a Ph.D in Psychology. Then from 1988, he devotes himself to his passion, the Blues, performing with Calvin Jones, Willie Smith, and Pinetop Perkins. That's what led to the birth of Mississippi Heat in 1991. He came to Chicago in '69 with nothing but his talent as music composer and performer and his American Dream. He succeeded in maintaining Mississippi Heat's soul and style.
This major band on Chicago's present Blues scene is still one of the most active; Each and every album they record becomes a `must` for every Blues fan. After the self-financed recordings: ''Straght From The Heart'' in '92, ''Learned The Hard Way'' in '94 and ''Thunder In My Heart'' in '95, three more superb cd's will be launched under the CrossCut label: ''Handyman'' in '99, then, ''Footprints On The Ceiling'' and ''Glad You're Mine''. It's on this last cd, since 2002 that the `swinging` lead singer Inetta Visor performs at the forefront with all her wittiness, her emotion and her intensity. The following albums: ''One Eye Open'' recorded `live` in Rosa's, one of Winds City's fabulous Blues clubs, "Hattiesburg Blues" and ''Let's Live It Up!'' will wind up on Chicago's famous label, Delmark. That impressive discography was much honored as, to name only a few, "Best Chicago Blues CD Of The Year" and "Best Blues Production Of The Year" awarded by U.S.A's Real Blues Magazine.
Mississippi Heat went through some changes since it's beginnings: Calvin Jones (bassist for Muddy Waters), Sam Lay (drummer for Howlin' Wolf, Paul Butterfield, Willie Dixon and Otis Rush), Kenny Smith (a son of Willie "Big Eyes" Smith), John Primer (guitarist for Muddy Waters), but it's founder, Pierre Lacocque, always succeeded in bringing together very talented individuals with a strong stage presence and exceptional musicianship to become parts of a coherent band, keeping alive the so much loved soul of Mississippi Heat.
The band's popularity might come from it's music stemming from Chicago's most prolific musical period, the '50s and '60s with Muddy Watters, Howlin' Wolf and Jimmy Reed, or possibly because of their extraordinary afro-american Gospel-Blues lead singer, Inetta Visor, or simply because the band is so fantastic on stage! But whatever the reason or reasons, Mississippi Heat has won the hearts of the Americans, of the Canadians and of the Europeans as well, be it at the Montreal International Jazz Festival (7 invitations!) for over 27 000 fans, at Belgium's Ecaussinnes Spring Festival (3 times) on the main stage of the Chicago Blues Festival (3 appearances), at the Lucerne Blues Festival in Switzerland (3 appearances), at Caracas International Music Festival, at Norway's Notodden Blues Fest or on the CBC's t.v. screen, on ARTE as well as in over 35 other countries, on tv programs or movies.
And, to still enhance this True Blues party, a famous and distinguished guest, Mike Goudreau, a prolific Blues composer from the Eastern Townships who reached the top of American Blues charts with even a few works in French. With his 16 albums discography and a 17th in the making, all that in less than 22 years, with his 7 successful musical projects, and his many thousand performances in concerts and festivals, namely the Montreal International Jazz Festival, the Blues at Tremblant Festival, and Viree Blues Boreale, all this leading to a large number of awards, mentions and numerous rave reviews, we thought that we can say that he's a `prolific` Blues composer because he is the composer of over 300 songs that can be found either on his 16 and soon 17 albums or on the soundtracks of numerous very popular t.v. programs among which: Everybody Hates Chris (CW), Dirty Sexy Money (ABC), Army Wives (Lifetime), Kath & Kim (NBC), The George Lopez Show (TBS), Justified (FX), Scoundrels (ABC), Let's Make A Deal (CBS), Friday Night Lights (ABC), Memphis Beat (TNT), Auction Kings (Discovery), Oddities (Discovery) and Hung (HBO), on the soundtrack of the Hollywood movie West End, on the made for t.v. Bonnie & Clyde, on England's Bacardi commercials and on the soundtrack of the French movie `Love Is In The Air`. He very recently also wrote music for the new series CSI New-Orleans ... and those are just a few!
An authentic Blues party with some of North America's top bluesmen: Pierre Lacocque on harmonica, lyrics by the one and only Inetta Visor, Michael Dotson (ex Magic Slim) on guitar, Brian Quinn on bass, Bernard "Bingo" Deslauriers (drummer for Bob Walsh) replacing Kenny Smith on drums and the special guest Mike Goudreau on guitar. We will be launching the 20th edition of Viree Blues Boreale and the festivities for our 10th anniversary with Mississippi Heat & Mike Goudreau, Wednesday, October 8th 2014, around 8h00 p.m. at the legendary Bar Le Petit Chicago, 50 Promenade du Portage, in the Old-Hull sector. Tickets are now on sale at: www.ticketpicket.com/Mississippi and will also be available at the door for 20$ only, despite the extent of this production. Further information on our guests can be found at: www.mississippiheat.net and at: www.mikegoudreau.ca. For inquiries and to set-up interviews, please do contact Alexandre Petit at: info@vireeblues.ca. For lots of very interesting information as well as links to all of our guests sites, you should visit our own site at: www.vireeblues.ca . Also make sure to be part of the facebook event for this show at: www.facebook.com/events/355919897898202/ and we would love that you would join us on our facebook page at: www.facebook.com/vireeblues.